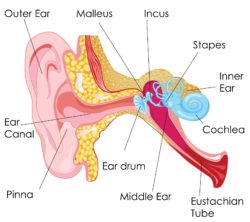 Dr. Dobleman is proud to be the first doctor in Omaha and surrounding areas to offer Balloon Dilation for patients that suffer from Eustachian Tube Dysfunction, or ETD.
The eustachian tubes are responsible for equalizing ear pressure and draining fluid from your middle ear. Eustachian tube dysfunction can occur when the eustachian tube gets inflamed or plugged. Patients experiencing Eustachian Tube Dysfunction typically complain of ear pain, ear pressure, dulled hearing and frequent ear infections.
Causes of eustachian tube dysfunction are normally things such as allergies, illness such as a cold, or altitude changes. This condition is relatively common and may dissolve on its own. If it does not, an ENT doctor, such as Dr. Dobleman, will first try to treat the issue medically. If the condition is chronic, and those treatments do not work, Eustachian Tube Balloon Dilation is a minimally invasive procedure changes the way physicians treat ETD. This procedure can be done in office or in an operating room under local anesthesia.
The Eustachian Tube Balloon Dilation System uses balloon catheter technology to dilate the tubes by inserting a small balloon into the tube and inflating the balloon. The balloon is left in for approximately 2 minutes per ear. The procedure works by opening the lining in the tube so it's not as "sticky" and opens and closes more normally. The device also offers the flexibility to adapt to varying tube anatomy to help Ear, Nose & Throat (ENT) surgeons minimize any trauma.
Within a period of a few weeks, patients will be able to equalize the pressure in their ear and feel better.