PROPEL® SINUS STENT
Chronic Sinusitis Relief that Lasts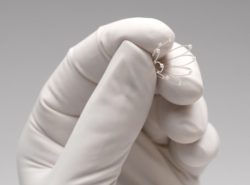 Propel® Sinus Stent implant is clinically proven to improve surgical outcomes for chronic sinusitis sufferers.  The stent device helps to keep sinuses open, help deliver anti-inflammatory medication directly to the healing tissues, and then dissolve. Propel®'s spring-like, lightweight design means patients usually cannot even tell that it is there.
How It's Used
Sinusitis, the inflammation of the linings of the sinuses, can lead to frequent infections and nasal blockage – greatly impacting quality of life. The first line of treatment is typically medications, however is symptoms persist, minimally invasive sinus surgery may be an option. The Propel® Stent is a dissolvable stent that is placed at the end of sinus surgery to keep the sinuses open, eliminating the need for gauze packing used in older surgical techniques. Propel® delivers anti-inflammatory medication directly to the healing tissue to help improve surgical outcome and enhance healing by reducing post-operative scarring. Propel® dissolves within 45 days, so no removal procedure is necessary.
BENEFITS:
Eliminates need for gauze packing
Delivers anti-inflammatory medication
Reduces post surgery scarring
Dissolves in 45 days – no painful removal procedure
Improves surgical outcomes
1. OPENS

After sinus surgery, Propel® is placed to help prop open the sinus.

2. DELIVERS

Propel® delivers medicine directly to the sinus to reduce inflammation that could block the opening.

3. DISSOLVES

As the sinus heals open, Propel® is designed to dissolve within 45 days.
How it Works
The Propel® Stent is carefully inserted by an experienced ear, nose, and throat physician, such as Dr. Dobleman, int the sinus cavity at the end of surgery. The stent remains for a few weeks, utilizing a spring-like mechanism to open up the nasal passageway.
For additional information and full disclosures about the Propel® Stent, please visit https://www.intersectent.com/products/propel,