The Dobleman Institute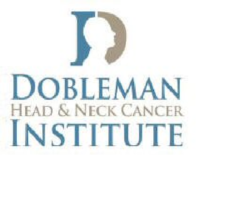 The Dobleman Head and Neck Cancer Institute has been created as a 501 (c) (3) organization to accomplish four interrelated objectives that – when combined –have the potential to change lives:
This is a critical mission since more than 80,000 Americans each year are diagnosed with head and neck cancer. To make things worse, head and neck cancer is not easily discovered…until it's too late. The research being done through the assistance of Dobleman Head and Neck Cancer Institute could lessen that pattern – with your financial assistance.
Since 2001, the Institute has partnered with Creighton University's Medical School to uncover and test scientific innovations for head and neck cancer patients and their families.  Read Our Most Recent Article in Publication > BioMarkers for Oral Cancer>>
1: Education Outreach
The Dobleman Head and Neck Cancer Institute builds awareness in the Omaha community by teaching Creighton's medical and dental students and sponsoring fund raising and publicity events. In addition, the Institute organizes free screenings for worrisome symptoms such as a lump or a sore in the throat, neck, lip, jaw or tongue that does not heal or go away.
2. Basic Science Research 
This is where so much progress is made in detecting and treating cancer symptoms. Dr. Dobleman is a "co-investigator" of this kind of basic ("pure") science. In many cases, it involves "targeted research" with a special focus on understanding the "cross talk" between important genetic pathways. This strategy – investigating the interaction between multiple factors that may lead to cancer – is the next level of proficiency, the "next class," for targeted therapies.
3: Clinical Trials
When a hypothesis is formed about a new treatment or new medical approach, the Institute's research associates may organize a clinical trial. Clinical trials can help determine if a certain cancer treatment is right for you. Clinical trials are built around a proprietary inquiry process that helps clarify what drugs will be most effective and what medical tests need to be done.
Another example:
Squamous cell carcinoma of the head and neck (SCCHN) is the most common type of head and neck cancer. Researchers associated with the Dobleman Head and Neck Cancer Institute have focused on testing various combinations of drugs that could help patients who struggle with the oral precancerous lesions associated with SCCHN.
4: Recovery Services
Many head and neck cancer survivors need special assistance learning how to cope with:
Difficulty with speech and swallowing;
Changes in appearance due to surgery;
Anxiety about recurrence after initial, successful treatment;
The unique effect of benign tumors on quality of life.
The Institute provides emotional and tactical support for cancer survivors, transforming confusion into confidence.
Board of Directors
Keith Basham
Mary Conti
Thomas Dobleman, MD
Mary Dobleman, MSN
Courney Dobleman, MD
Ann Fisher
Mike Fisher
Daniel Koch
Lisa Koch
Alta Sharp
Gamini Soori, MD
Jeff Sugimoto, MD
Craig Wolf
The Dobleman Institute Team
Head and Neck Cancer Reconstructive Surgeon:
Thomas J Dobleman, MD, FACS
Medical Oncologist:
Gamini Soori, MD, MBA, FACP, FRCP
Robert M Langdon, Jr, MD, FACP
Radiation Oncologist:
Oral and Maxillofacial Surgeons:
Michael McDermott, DDS
Jerome M. Wees, DDS
Endocrinology:
Robert J. Anderson, MD, FACP, FACE
Research:
General Dentistry:
John Shaner, DMD, MS, FAGD, FICD
Pathology:
Speech and Swallowing Therapist: